Growing up with a Salvadoran mother meant listening to Cumbia from the San Vicente region of El Salvador during early afternoons as a child on one of our cassettes. It's common in many of those songs for the singer to shout "San Vicente!" during the introduction of the tracks as a proud representation of their origins, similar to a hype man like Lil John would holler as a collaborator with Pitbull.
Nobody played an instrument in our family, except my grandfather. My mother's father, abuelo Adolfo, was a musician and respected guitar teacher in El Salvador. I remember listening to him perform for us when I was very young when we visited as a family in 1994. I was only seven years old, but I remember the strong rhythmic section of nylon stringed guitars, the intricate and beautiful melodies the requinto (lead guitar) produced, and a raw, powerful voice. It was my first taste of live music.
My walk through the centro mercado in San Vicente reminds me of these nostalgic memories. I stop to listen to a blind woman sing in a hauntingly beautiful voice. She slowly paces forward, very cautious of her next step placement. This is the town I had heard so many times on those tracks. A place I had heard so many stories of my mother's childhood. An area almost mystical to me filled with a rich, tumultuous history and some of the best food the country has to offer. I turn around and snap out of my trance. I nearly forget there is a camera following me. My long journey has brought me right back to my roots. And it's only just beginning.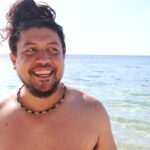 Trevor Davis is a travel writer, cidermaker, content creator, and musician. He scours the earth searching for culture to absorb.