Anthony Bourdain learned about free tapas culture during his visit to Granada, Spain in Parts Unknown. Along with each drink order small plates of food are served that tend to increase in quality, and many times they are samples of whatever the kitchen is cooking that day. I needed to find out on my own if Tony was just getting special treatment in front of cameras.

I walk into Taberna la Tana and it looks similar to other restaurants in the area. A leg of two-year aged Iberian ham is resting on a stand with thin slices being shaved off. An assortment of cured sausages and dried vegetables hang behind the bar in front of dozens of different types of wine. Designated tapas tables outside are full but, luckily, they make an exception for me to head inside for a few drinks as long as I leave before a late dinner reservation. Having worked in the restaurant industry, I too share Bourdain's initial sentiment of feeling like "a degenerate" for not ordering a dish.
Wine that challenges $180 Robert Mondavi bottles at only €2 to €4 a glass are paired with figs, beautiful pâtés, and blood sausage. A flamenco artist casually strolls through, attempting to sell his CDs to patrons. He walks directly to me. Musicians have an innate ability to pick each other out of a group. Unfortunately, the last CD player I owned was in an old Honda Civic in college.
The second location is Restaurante Oliver located in the centro (center) of Granada just 100 feet from the apartment I rented for the month. In the episode Bourdain receives amazing seafood tapas. I am not served seafood but the tapas are substantial and delicious. I'm not sure how anyone could order dinner afterwards. In this crowded and cheerful establishment, like many other restaurants in Spain, it's customary to get the waiter's attention when you need something—and you don't tip.
I was assured by locals that the practice of just going out for tapas is completely acceptable. Also, if you are ever in Spain ask for the Verdejo wine (and it's usually the house). It is hands down the best white wine my lips have ever touched. As a Cidermaker I may not be a Vintner per say, but I appreciate a good wine for sure. Music is everywhere. I heard a duo playing Gipsy Kings to several customers enjoying dinner. I remember Bourdain experiencing an intimate Flamenco show in the caves of Sacromonte, and I was excited to head there next.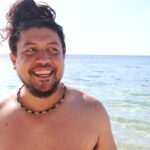 Trevor Davis is a travel writer, cidermaker, content creator, and musician. He scours the earth searching for culture to absorb.