I bought my first acoustic guitar on my 16th birthday. I became obsessed with the instrument from day one. This is the time when I began finding and listening to instrumental guitarists and various other genres that hardly anyone else my age was interested in or even aware of existed. The Gipsy Kings were a favorite that I would listen to over and over again. I would get lost in the sophistication of Sabicas and Paco de Lucía, wondering if I'd ever reach a level where I could play those difficult pieces. I was drawn to the music from Spain, and especially Flamenco. Eighteen years later, I've finally arrived in Spain.

I'm staying in an apartment in the Andalusian city of Granada. Andalusia is the area that gave birth to Flamenco. Sacromonte is only two miles from where I take my siestas and sip my coffee in the morning. A place I'd previously only heard of, such as Willie & Lobo's song "Sacromonte Sunrise." It was a dream come true to finally experience a Flamenco show. Years of listening, playing, and waiting in patient anticipation weren't enough to prepare me for the spectacle I was lucky enough to witness. The dancers were intensely expressive and passionate. The guitarist was incredible and his playing was both powerful and beautiful. The performance brought me to tears. This is what life is about. This is what I live for. These beautiful moments that move me. We are fortunate to have experiences of that magnitude that compel such strong emotions. I hope you are searching for these moments that have been calling you.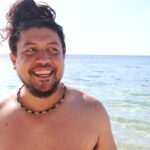 Trevor Davis is a travel writer, cidermaker, content creator, and musician. He scours the earth searching for culture to absorb.